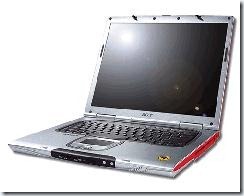 Acer Ferrari 3200
The Acer Ferrari 3200 is an improved model of the Ferrari series. It characterizes with improved performance. It features an integrated 802.11b/g Wi-Fi and Bluetooth, 4-in-1 flash memory card slot and Mobile AMD Athlon processor. The disadvantage of this notebook is just like the rest of the Ferrari series, the short battery life.
Features
CPU: Mobile AMD Athlon 64 2800
2x256MB RAM/ 2GB DDR 333
Graphics:ATI Radeon Mobility 9700 with 128MB VRAM
Display: 15.0″ SXGA TFT with resolution 1400×1050 pixels
80GB ATA HDD
Dimensions: 330 x 272 x 31mm
Operating System: Windows XP.
Here are the drivers available for download for Acer Ferrari 3200:
Acer Ferrari 3200 Audio Driver XP
Acer Ferrari 3200 Bluetooth Driver XP
Acer Ferrari 3200 Card Reader Driver XP
Acer Ferrari 3200 Chipset Driver XP
Acer Ferrari 3200 CPU Driver XP
Acer Ferrari 3200 LAN Driver XP
Acer Ferrari 3200 Modem Driver XP
Acer Ferrari 3200 Tiuchpad Driver XP
Acer Ferrari 3200 VGA Driver XP