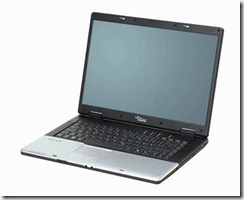 The Fujitsu Siemens AMILO Li 1720 was intended for those with tight budget but in the same time in need of multimedia entertainment. It is equipped with a 15.4" BrilliantView display and with a VGA card ATI Radeon Xpress 200 M which makes it a perfect entertainment laptop. Had ports which were pretty new and revolutionary at its time like: S-Video out, 4xUSB 2.0, and of course the very miracle of that time the Wireless LAN, I'm sure you all remember that it was a privilege to own a notebook with a built-in wireless card and brag about having the ability to connect to the internet from the very few places there was available wifi internet.  It had a great audio card and speaker, not some top notch, but it was enjoyable. So it should represent the something of a multimedia notebook for budget guys. Again, like all of the other 17 series this lappie is meant for XP. Vista and 7 can be installed, but I don't recommend them because I never tried them myself on this model. XP is what it was originally intedent for and it should be used.
Chipset: ATI RC415MD + SB460
CPU: Intel® Celeron M processors 533MHz:
Celeron M 410, M 420 or M 430
HDD: 60, 80 and 100GB PATA
Display BrilliantView size: 15.4" TFT WXGA, 1280 x 800 pixel
Graphics ATI Radeon Xpress 200M with up to 256MB Hypermemory
Communications 56K modemWifi LAN 802.11b/g
Battery 6 cells / 4400mAh
Dimension and weight
355mm (W) x 256mm (D) x 24 – 34mm (H) Approximately: 2.7 kg
Ok, so here are the Windows XP driver since these are the only ones I would recommend, for you to download:
Audio
Graphic
LAN
Memory Card Reader
Modem
Touchpad
WLAN
WLAN  miniCard
Hope I helped you guys, much regards.